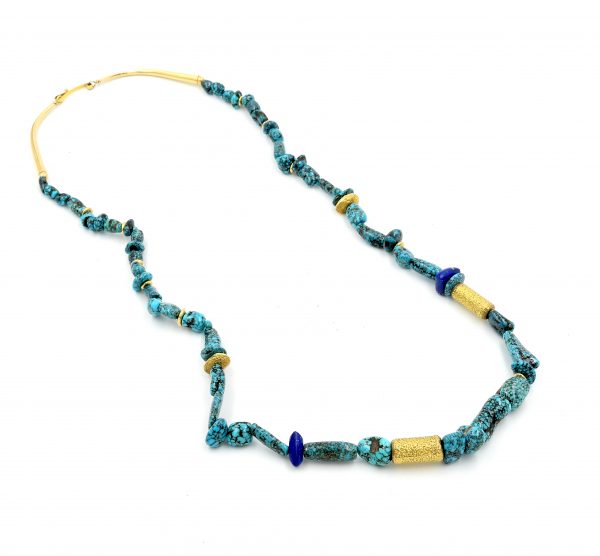 Authentic Native American jewelry is renown for its unique beauty and exceptional quality. When you buy a piece of Native American jewelry, you are investing in a valuable piece of art that should be able to be passed down for generations. In order to keep these special pieces in optimal condition though, you need to treat them right.
Follow these care tips below to keep your one-of-a-kind Native American jewelry sturdy and dazzling for years to come!
Sterling Silver Jewelry
Sterling silver is probably the most common metal used in modern-day Native American jewelry-making. To keep your sterling silver pieces from tarnishing, you must clean and store them carefully. Don't use silver cleaning solutions on them, as they can damage or discolor the stones.
Native American sterling silver is often intentionally oxidized in certain places to create a unique contrasting effect. Harsh chemicals and cleaning solutions can ruin this effect. If you need to clean it, polish with a silver or other soft, non-abrasive cloth. If you will not be wearing your sterling silver jewelry for an extended period of time, store it in a sealed plastic bag to prevent air or moisture damage. For pieces that have intentional oxidation, poke an air hole in the bag to keep the design intact.
Turquoise Jewelry
Turquoise is a staple stone in Native American jewelry. Extreme temperatures, moisture, perfumes, natural skin oils, and harsh chemicals can all damage or discolor turquoise, since it is naturally porous. A polishing cloth is the best way to clean your turquoise jewelry. If there is stubborn dirt or staining, you may use warm water to rub it off gently—but don't use soap or submerge the piece.
You should remove your turquoise Native American jewelry before bathing, swimming, or any activity during which you will be sweating a lot. Turquoise also should not be exposed to sunlight for too long, or it may affect the color.
Inlay Jewelry
Inlay jewelry are pieces made with stones glued in, rather than traditionally mounted with metal clamps or other hardware. Various designs are created from holes made to the exact shape and size of the stones being used, so they will fit in seamlessly. Inlay pieces are common in Native American jewelry.
Because the stones of inlay jewelry are not as secure, the piece is more fragile and must be handled with extra care. Avoid dropping, scratching, or bending your inlay jewelry, as the stones can come loose and fall out of their settings. Only a polishing cloth should be used to clean this type of jewelry.
Looking for your own piece of Native American jewelry to treasure for a lifetime? Check out our collection of authentic Native American jewelry at the Faust Gallery! We carry a wide variety of beautiful pieces made with different metals, stones, and intricate designs.
Head over to our website to check out our latest pieces!